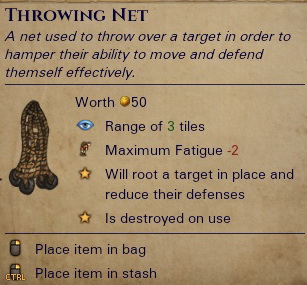 Description
Edit
A net is used to throw over a target in order to hamper their ability to move and defend themself effectively.
Carried instead of a shield.
Range of 3 tiles.
Roots a target in place and reduces their defenses until destroyed.
Can be used on any type of enemy (including all types of Orc).
Where can it be found?
Edit
Can be bought from Marketplace in coastal settlements.
Can be dropped by Goblins.
Is destroyed on use. Once used in combat, a new one will need to be equipped.
Reduces defence by 30% in both melee and range.
Despite lack of description, removing a throwing net is based on your melle skill with a malus of 10. Each failed attempt will give your 10 point for your next chance.